Grow your business
Differentiate your offering and work more efficiently
Strengthen the workshop's image
Add your workshop to the MeldMoto database and be among the selected recommended companies.
Neat documentation
Use the app's support in daily activities. No more messy notebook.
Customer Trust
Get more customers who trust your expertise without words.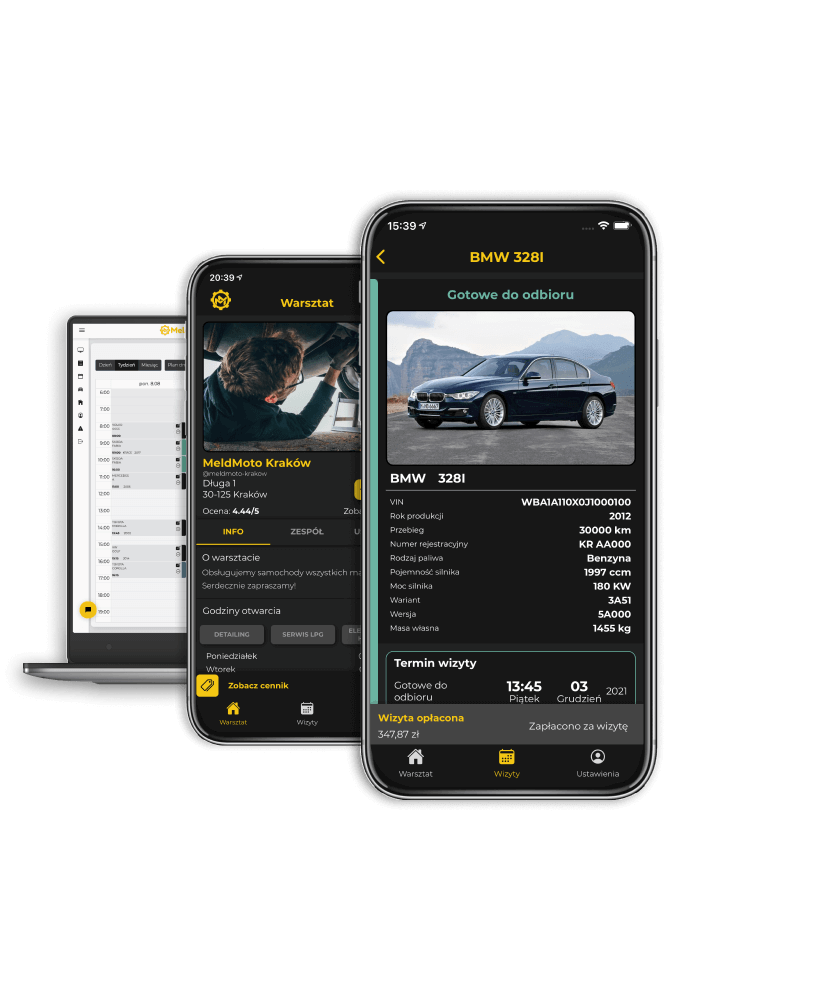 No more paperwork
Meet your new assistant
Visit panel
Instead of answering phones, focus on workshop duties. Manage appointments in the app with just few clicks.
Workshop panel
List services and pricing, show customer reviews. Build a strong brand and position in the local market.
Your benefits
What can you find in the MeldMoto app?
Customer car information
You can check vehicle data, repair reports and feedback from previous mechanics before accepting an appointment.
Absence Protection
Customer was supposed to come for a diagnosis, made an appointment, but didn't come? We have solved this problem, to your benefit.
Online Payment
The MeldMoto app replaces the payment terminal. You can collect payment before, during or after the visit.
Free Marketing
Create a profile of your workshop and add it to the map of companies with the best reputation. This means trust from customers right from the start.
Your Team
Delegate booking management to your employees. Five members of your team can have access to the app.
Online Report
Easily and intuitively summarize and record the repair work performed for a given car.
Simple, transparent, and no unnecessary calls.
How does MeldMoto work?
01
You're getting an order.
Along with the notification, you gain access to all information about the customer's car.
02
Propose a term.
Based on the specific information, you evaluate the repair time and propose available dates.
03
Diagnose and estimate.
You evaluate the problem and send the customer a quote before starting the work.
04
Accept the car.
The car arrives on the date selected by the Customer. If the Customer doesn't show up, you charge for the quote.
05
Complete the service.
You start the work without worrying that the Client will question the price and your professionalism.
06
Invite the customer for pickup.
Instead of calling, with a few clicks you inform about the completed service and pickup time.
Frequently asked questions
Find out more about MeldMoto
Is the app available for my phone or tablet?
App is available on smartphones and tablets with iOS and Android.
Can several people use the application at the same time?
Yes, you can add up to 5 employees in the app at the same time.
Where is the app working now?
Currently we're focusing at Cracow area. If you're located in different location, write us in contact form, we we'll get in touch with you.
How can I add my workshop to the app?
Download the app and create your workshop account. We will contact you soon and help you with the configuration.
Write us
Any questions? Contact with us